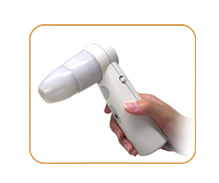 STR Examination Cameras

Magnify skin and hair from 1 to 500 times and display the image on a TV, computer screen, iPad, Android tablet, LCD panel or projector for both you and a client to see. The cameras are very easy to use, as you simply touch the area of the skin, scalp or hair to be viewed and look at the image on a screen. Skin, scalp and hair conditions are easier to see at various magnifications and dramatically show the cause of the condition and further motivate the client to use your products and services to solve the problem.
Skin Sensors / Skin and Hair Analysis Systems

Sensors for the skin measure moisture content, oil content, and elasticity. Simple place the sensor against the skin and then read the measurements. Very easy to use and inexpensive, these sensors help you determine the condition of the skin to show positive effects of a skin care product or show that a skin care product is needed.
Skin exam camears with analysis for skin texture, pigmentation,sebum, moisture, keratin, elasticity, brightness, wrinkles, and pores.
Hair exam camears with analysis for scalp type, scalp pores, hair thickness, hair count, and hair area.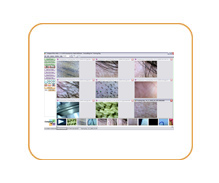 Examination and Analysis Software
For use with ProScope and Dlite USB cameras

Provide a guided examination that shows results in an easy to understand report. The same software can be used to compare results for any two exams and for before and after treatments to show client progress. Client information including personal data and ID image, examination results, and all captured images are available to review.